The Leading Provider of the Form 5500
Wrangle manages all aspects of the Form 5500 process, from beginning to end. Our experienced team provides the following services.
All services included in one flat-rate fee
Health & Wellness Form 5500
Trust filings
Multiple Employer (MEWA)
Delinquent filings (under the DFVC program)
Collection of unlimited Schedule A's from insurance carriers
Form 5558 Extensions (if necessary)
Amend prior Form 5500 filings
Ongoing educational programs (such as live webinars) to keep you current on the latest compliance news
Access to our experienced team to answer all your technical questions
Assist with DOL audits
Wrangle's team monitors the process for each ERISA Plan that is listed in the Dashboard. When any approaching deadline is on the horizon and action is required, Wrangle will proactively reach out to notify the contact on the account for instructions.
Each Form 5500 File follows the exact four phase cycle that runs every 12 months.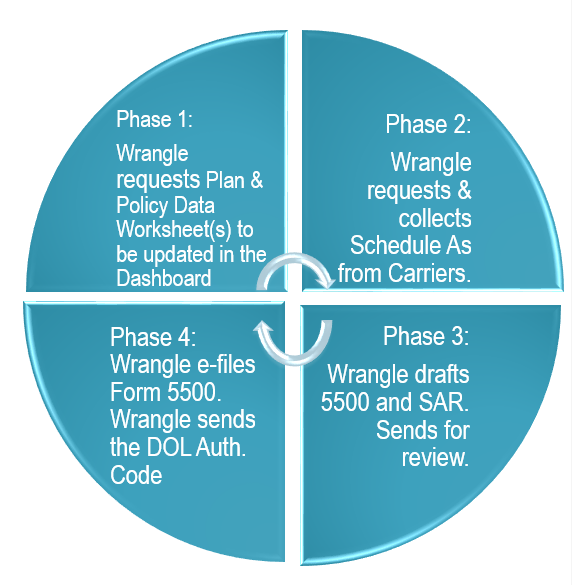 Role
5500 Representative
5500 Specialist
Data Collections
Broker Facing
Data Collections
Carrier Facing
Tasks
Personally available for client questions, Form 5500 questions and process questions
Reviews, posts and e-files Form 5500s as well as updates for changes. Also prepares extensions (Form 5558)
Reviews the eWorksheet and asks questions if necessary
Reaches out to Carriers to obtain Schedule As and builds the Form 5500
POD Team Members
POD Name
5500 Representative
5500 Specialist
Data Collections  Broker Facing 
Data Collections 
Carrier Facing 
ATEAM
Julie Berblinger
Natalie Kent
JD Flagg
Chantiel Miotke
BATCAT
Jennifer Bishop
Eden Shroyer
Sarah Warren
Peter Clark
BLAST
Tammy Martinez
Camey Berry
Nan McNatt
Mekayla DancingBear
ROCKIT 
Janice Dye
Rebecca Lubahn
Wanda Loney
Carolina Reyes De Mendoza
SUPER
Megan Cain
Megan Cain
Amy Bone
Sabine Antoine
SUPER 
Pam Branham
Pam Branham
Amy Bone
Sabine Antoine
WINNER
Tiffany Collins
Tina Fruitt
Michelle Auxier
Alyssa Gagliardo
DFVC:
Lead: Michelle Shelton,  5500 Specialist: Terry Potter
Process Support Team
Carrol Smith
Julie Wensel
Candy Allen
Tonya McKay
Tracy Escudero
Lisa Smith
---
Our Interactive Broker Dashboard
Login to your broker Dashboard to manage your plan sponsors and view real-time status updates every step of the way.
Our online Dashboard provides 24/7 access so you can:
Create, review and edit plan sponsor e-worksheets
Generate status reports
Review and e-sign your completed Form 5500s