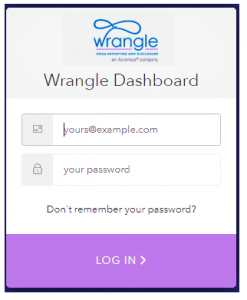 Every February, Wrangle receives scores of requests for trainings on how to use the Wrangle Dashboard, as well as a refresher on our process for the Form 5500. Live trainings are gladly provided, but to reach the masses and to provide the training at a time that is convenient for you, a pre-recorded training is now available.
Here is an agenda outlining what you will learn from this 34-minute presentation:
Wrangle's Process:
Key deadlines and timelines followed throughout our 12-month cycle for each Plan Year.
Our four-quadrant cyclical process is reviewed
Broker's timeline for submitting materials
The DocuSign steps
What to expect on e-filing
Dashboard Demo:
Understanding how to navigate around the three key tabs
Learn about the Scorecard and the information surrounding it
Know how to search, add, and edit a Plan Sponsor file
Upload Schedule As
Review status reports
Download PDFs of the 5500, SAR, Carrier Schedule As
Initiate the DocuSign process for your client
Copies of the PowerPoint slides and cheat sheets, such as how to Load a Schedule A, are available by contacting Ann McAdam at amcadam@wrangle5500.com .
Finally, if you have a team of ten or more looking for a live training on the process and the demo, please contact Ann. She can coordinate schedules to line up a training.
Special Note for those in Texas:
President Biden immediately acknowledged the terrible storms and freezes taking place in Texas as a natural disaster. As a result, the IRS has provided a special extension to various filings, including the Form 5500, for all 254 counties in Texas.
The extension applies to deadlines – either an original or extended due date that occurred on or after February 11, 20201, and before June 15, 2021. They are postponed through June 15, 2021.
Wrangle closely monitors these and keeps track of the disaster deadlines on our blog page.
Our team has briefed and will communicate the special extension deadlines to you when we issue our posting email to you when the draft is ready.