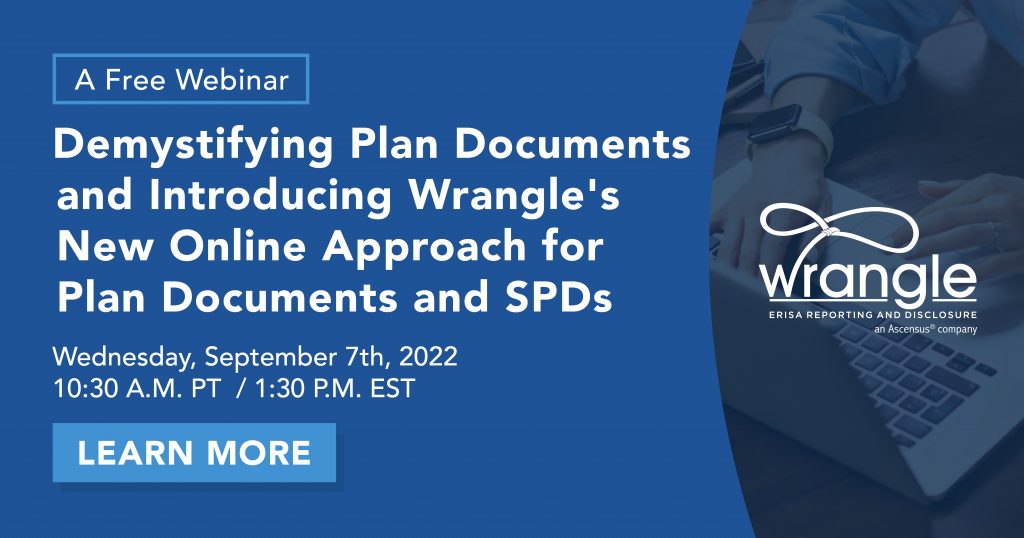 Wrangle has worked long and hard to share two significant changes from our ERISA Desk Department with you.
Beginning September 19th, you will be able to submit your Plan Documents and SPD projects online using the ERISA Desk Platform (soon other types of projects will be available to submit online). Starting the project online is only the beginning of what you will be able to do with the Platform. In addition, when we go live with the Platform, Wrangle will transition our Plan Documents to those from our parent company Ascensus with the backing of their ERISA Attorney Team. This change brings multiple wins for you. See below.
We anticipate that this is coming at a perfect time, because more and more are facing stiff challenges meeting ERISA compliance and desperately need tools to lift the burden and save time.
The ERISA Desk Platform
Why was it created?
The ERISA Desk Platform eliminates the need for the five-page manual worksheet. With auto-population of data and drop-down menus, starting a new Plan Document project has never been easier with faster data sharing. Furthermore, we want to uphold our value of transparency giving you the ability to track the project throughout its various phases.
Is there a cost to use the Platform?
Absolutely no additional cost. The same project price will apply.
What projects can be initiated with the Platform?
At launch, we will have our Wrap Plan Document and SPD package project online. After our launch, other projects will be transitioned to the online platforms such as nondiscrimination testing and annual notices.
Will I be able to track current and past projects?
Yes, and with complete ease. You can go to the home page and see where the project stands just as you do for your Form 5500. All past projects initiated in the Platform will be stored and avaiable as well. With the Platform retaining information and clients in the system, you will be able to simply update data wherever needed for new projects.

Does the Platform connect to the Dashboard?
Yes, you will be able to toggle between the two systems. Additionally, if your client's data is entered into the Dashboard, the Platform can pull that information over to begin a plan document project. As always, our ERISA Desk Team will be available to assist you should you run into any issues.
Will there be reference materials and cheat sheets to help guide as there are for the Dashboard?
Definitely. For your reference, the fields and terms used in the Platform will have clickable help questions, a handout, and a pre-recorded demo to watch at any time.
Can the worksheets still be used?
No. The process will be strictly online starting on September 19th.
How will I have access to the Platform?
If you are new to Wrangle, you will be provided with a username via email that will allow you to set up your password that Wrangle will not have access to. If you lose your password, Wrangle will be able to reset it for you.
If you are a current user of the Dashboard, you will be able to toggle back and forth between the Platform and the Dashboard with your current username and password.
Will there be a national webinar to learn about the features before September 19th?
Yes, the webinar will be on Wednesday, September 7th at 10:30am PST / 1:30pm EST. Click here to register.
Who can I reach out to if I need help with the Platform?
A dedicated ERISA Desk team member will be available to assist with questions you have when working within the Platform.
Will Wrangle continue to support Documents prepared prior to this transition?
Absolutely. We will continue to track those documents we've prepared and provide services as needed.
Updated Plan Documents from Ascensus
Since 2017, Wrangle has provided detailed Wrap Plan documents and other materials originally prepared by an esteemed ERISA attorney. These were reviewed at least once every year by an outside ERISA Counsel. Not surprisingly, they have always come through even during DOL audits with no reported issues.
This year we have decided to make the switch to our parent company's set of Plan Documents as they are constantly maintained by an incredible team of internal ERISA attorney staff members. By adopting this new practice, we can expand our ability to assist through complex ERISA situations. ERISA attorney staff members will be available as a resource to review customized language requests or other ERISA document compliance questions.
We will also be able to provide an additional document – the Adoption Agreement. This document may be new to you as it is more commonly found with pension plans. It takes several details of a Plan Document and lists them in a more outlined format. In many ways, it appears as an information guide to help you focus on specific details without the surrounding legalese language. See below for a visual.
Portion of an Adoption Agreement:

We are more than excited to bring to you the ERISA Desk Platform, as well as the updated Plan Documents. For additional information, please see below for contact information.
New requests for the ERISA Desk's Plan Documents and SPD package and other services: Elaine Harvey, Sales Representative: eharvey@wrangle5500.com
Questions in general on the ERISA Desk Platform: Aubrey Box: abox@wrangle5500.com.
Request for flyers or the narrative on the ERISA Desk Platform: Ann McAdam, Project Manager: amcadam@wrangle5500.com