The Wrangle Dashboard continues to deliver a great approach to entering data for your Form 5500s, and we have now added new enhancements to create an easier experience that continues to be in line with industry and ERISA directions.
The following are now in place:
Telehealth

Our standard naming for this very prevalent benefit that offers medical coverage through online means. It is now a choice to check on our list of standard benefits that will be notated on the SAR.

New Client List Options

By popular request, you can have the "Plan Sponsor" (your client) list condensed to be just the Plan Sponsor name or expand to standard view which includes all the plans under the Plan Sponsor.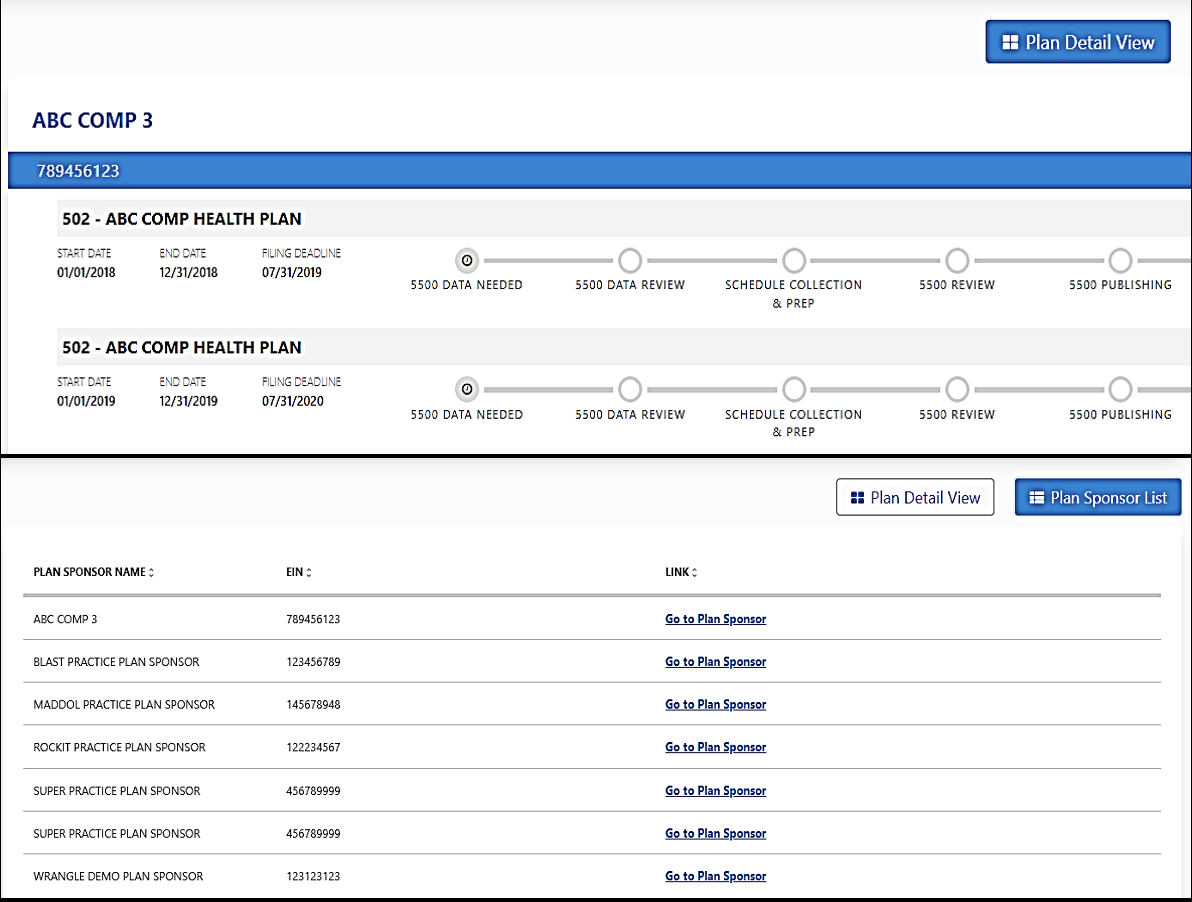 Search by DBA (if applicable)

Now, you can look up a client by their DBA (doing business as) name if that is part of the Plan Sponsor's legal name as it appears on the Form 5500.

Self-Funded to Self-Insured

The DOL has encouraged us to use the term self-insured rather than self-funded. Self-funded can confuse plan participants on whether the plan is under a trust which is notated by being a funded plan. As a result, the term self-insured will be found in the dashboard and notated in the SAR.

New Button to Toggle Between the 5500 Dashboard and Plan Document Platform

If you have Plan Document projects with our ERISA desk team, enter the Dashboard for the 5500 side. You will see a fourth button in the header named "Plan Document Platform." You will be able to toggle back and forth. If you don't have any projects, this fourth button will not be visible.
For those who would like to start a Plan Document project with the ERISA desk team, contact Elaine Harvey at eharvey@wrangle5500.com.
There will be more information to come in the months ahead. Stay Tuned! 
Free Tutorial Demos Coming to Showcase the Dashboard
Would you like a tutorial and a live demo on the Dashboard? We will hold two live webinars each lasting 30 minutes to help develop your understanding of the Dashboard and how to use it to its full potential. Click here to register for one of the two days below:
Wednesday, February 22nd at 11am PST

Wednesday March 1st at 11am PST
As an attendee you will also receive the recording and supplemental materials. If you have any questions, please contact Ann McAdam at amcadam@wrangle5500.com.