Insight Can Make All The Difference
With ProspectPulse you have access to over 400,000 companies' Form 5500 data. With a few short keystrokes, you search to fit your specific criteria, such as by a zipcode or North America Industry Classification System (NAICS) identifier. Then, define further by specifying the minimum dollar value for fees, commissions and premiums paid. Once you find the company for your focus, take a deeper dive by clicking on the company's profile page for specific details on yearly premiums and compare them to industry averages. You can get vitals on how often the company has required an amendment and when their policies have expired. Overall, you have a complete breakdown of historic filing information for your prospect.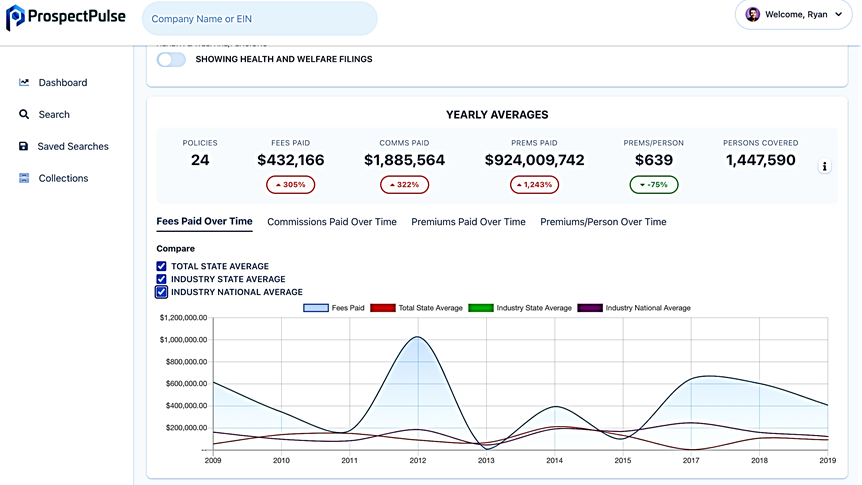 Where Will Your Search Take You Next?
Features That Make a Difference:
Track multiple companies and return to your saved collections of prospects in a designated Reports Section.
Advanced-search capabilities to find the precise companies for your prospecting.
Advanced Search
You can use the Search Radius slider to expand or reduce your search area. You can also limit search results to companies of a certain size, and a minimum amount for fees, commissions, and premiums paid.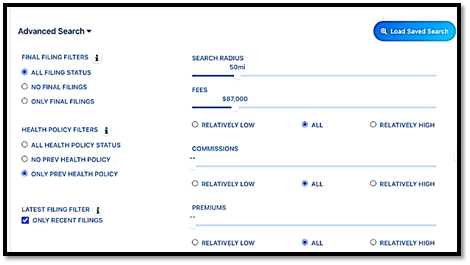 A Day In The Life Using ProspectPulse
After logging into ProspectPulse, your primary view is the Dashboard page. This is where you will access your saved prospect information, including collections and saved prospect searches. The Dashboard also includes a list of suggested companies you might be interested in viewing. These companies are found using your search preferences, location, and more. As you click to review the vitals of a prospect you can view a detailed breakdown of payments made by the company, which carriers were involved, how many participants there were. Finally, click to get the contact information and make a call or send an email to turn that prospect into a new client!
Graphs
View graphs to compare to state, industry and national averages to highlight how much your prospect is paying relative to others in the same region or of the industry type.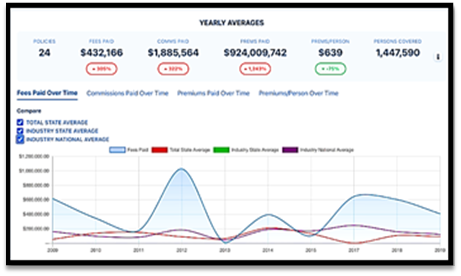 What Is The Value In Reviewing 5500 Data?
The 5500 report gives you direct access to the details on a prospect's Employee Benefit Plan before you set up a meeting. The challenge can be to review the data from the DOL website.
ProspectPulse instantly organizes the data from the e-filed Form 5500 on reported benefits, funding types, commissions, fees, and premiums paid, as well as contact information. You have the tools to start an educated dialogue to build a relationship with the prospect and provide guidance. ProspectPulse highlights where you can go next to win over the prospect to be your client.
Want A Live Demo?
Contact Sales Representative, Elaine Harvey, by phone or email:
(614) 582-4290
eharvey@wrangle5500.com