Introductions are in order:
Wrangle, LLC has listened to the requests for assistance for access to compliance and Form 5500 data. While Wrangle has chosen to focus and remain as a specialist on the health and welfare 5500, we have recognized that brokers and clients may not have the time or means to search for their other compliance or prospecting needs. In light of this dilemma, we have done some of the leg work for you. We investigated and found potential providers to bring the services to you.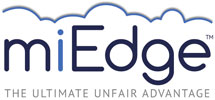 Prospect Sales Tools and Client Form 5500 Data
miEdge 5500 data gives brokers, agents and consultants the business intelligence to make cold calls a thing of the past. You will know an employers' e-filed history of health and welfare employee benefits activity, and carrier relationships. The integrated Google and the one- click integrated LinkedIn portal can then be used to find out how you can get that critically important introduction to key contacts.
miEdge's data includes details on the commissions, premiums, fees and carrier bonuses, lines of coverage, renewals dates, service providers, self-funded and stop/loss plans.
There are various client demographic search options available: geographic area, company size, industry, benefits offered, etc.
Wrangle does not coordinate, approve, pay for or review services/products nor are they liable for services/products provided by these outside resources. The arrangement and/or agreement for these additional resources is solely between the broker, consultant or plan sponsor. Wrangle, as always, cannot review or approve ERISA plan documents. Finally, Wrangle does not receive any compensation from these outside resources.